Get Trained by the Most Trusted Source in .NET!
We offer standard classes as well as custom and individual training that can be delivered on-site at your location, in our training center, or online.
Contact us for more information.
We currently have the following classes scheduled, and the abstracts can be found below the class listing:
Event
Date
Price
Options
Register

Houston

6/3/2013
(4 days)
$1,299
Sign Up

Houston

6/3/2013
$399
Sign Up

Houston

6/4/2013
$399
Sign Up

Houston

6/5/2013
$399
Sign Up

Houston

6/6/2013
$399
Sign Up

Houston

6/7/2013
$399
Sign Up

Houston

6/8/2013

$499

$49

Sign Up

Houston

6/10/2013
(2 days)
$695
Sign Up

Houston

6/12/2013
$399
Sign Up

Houston

9/16/2013
(3 days)

$999

$899

Sign Up

Houston

9/30/2013
(2 days)

$695

$95

Sign Up

Houston

10/21/2013
(5 days)

$999

$699

Sign Up

Houston

10/21/2013
(3 days)
$599
Sign Up

Houston

10/24/2013
(2 days)
$399
Sign Up

Legend:

Live Event

Online/Remote

Video Taped

Post-Event Mentoring

On-Site

Customized
Abstracts for Scheduled Classes:
Testimonials
"The class yesterday with Markus was, unsurprising, fantastic. It's so refreshing to hear people start from the point of view of the customer instead of drilled-down into what's become some awfully scary looking syntax. Markus makes complicated concepts clear--like lambda expressions. It's with a huge sense of relief that you all have created and made available the CODE Framework and your classes are really, really helpful. I can't thank you enough."
- Nancy Folsom, Pixel Dust Industries
"Thanks! Again, I just want to say that I thought it was a good training, and the trainers were able to keep me engaged in what they were discussing – even though I was remotely attending."
- Steve Kaschimer, CSM, Architecture Specialist, The Dow Chemical Company
"The videos are great. I am listening/watching them as I can. I've only gotten through a few, but the instructors are very knowledgeable, obviously. I am not sure who to thank for doing these videos, but whoever the person is that thought about selling the videos, please thank him./her for me and also the people who did the videos. This is top-notch!"
- Cecil Champenois
"I found Markus to be an excellent presenter with informed observations and a good mix of code, slides, and examples."
- Brian Federia, Beyond.com
"Good event! Appreciated the content, timely and well presented."
- W. Newquay, Vancouver
Why CODE Training?
CODE Training has the most extensive and advanced network of experts. Think of all the authors and presenters we have on our payroll for CODE Magazine, CODE Consulting, CODE Staffing, and for presentations at the numerous events we are involved with. CODE employs more MVPs, Influencers, Gurus, and RDs than any other company. Thanks to our community involvement, we have access to the best experts for each topic. Not only do our trainers have lots of training and speaking experience, but they also bring real-world expertise to the table. They don't just teach, they also "do".
Can you think of a better setup for your training?
Other Training Options
In addition to our standard training classes, CODE Training offers various other options, such as individual Mentoring Programs and Corporate Training Discounts, as well as on-site and customized training. Instead of attending a standard training class, why not get customized training for your entire team that specifically targets the material to your next software project?

Contact us for more information!

CODE Framework

Developers! Check out CODE Magazine's free, open-source CODE Framework available from CodePlex and through the Visual Studio Extensions Manager. The CODE Framework consists of various components and tools that help developers with common aspects of business application development, simplified SOA, WPF, data access, and much more. Our purpose for the CODE Framework is to enable productive, flexible, and highly maintainable business application development. Give it a try and see what everyone is talking about! Get more information here:
Advertisement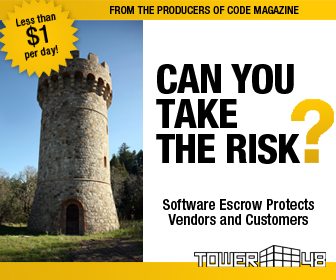 Subscribe to CODE Magazine
CODE Magazine is a great learning tool! Get a special discount when you subscribe to CODE Magazine today!