State of .NET Events
Brought to you by CODE Consulting and CODE Magazine, these free events are designed for developers and IT decision makers. Join Markus Egger, Microsoft RD and one of the longest running MVPs, for an afternoon of free information. This is NOT marketing hype! We will discuss which technologies are worth investing time and money in, and which ones to avoid.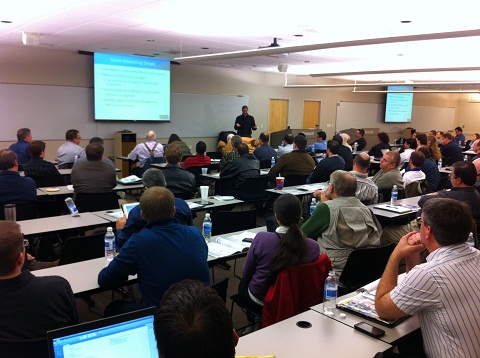 The software industry is in a state of flux. What does that mean for your software projects today and tomorrow? Will your skills be outdated? Will your current investment become obsolete? Which technologies should you focus on right now? And what will become important a year or two down the road? This series of free State of .NET events attempts to answer these questions and more, by taking an unbiased look at current and future development with .NET and other relevant Microsoft technologies. This includes Visual Studio technologies as well as Web technologies and a look at the current state of Microsoft's flagship operating system (Windows).
This event is completely free of charge and prior knowledge is not required. Attendees of this event will come away with a clear understanding of which technologies to use for various technical challenges
CODE Training Classes
Here is a list of upcoming classes by CODE Training that you may also be interested in:
For a complete list of all our scheduled classes, and to get an overview of our custom offerings, please visit our training page:
Do you like State of .NET?
Want the latest info? Get special offers? Follow us!




For additional information, please visit our State of .NET page on Facebook:
facebook.com/stateofdotnet
Download Materials
Did you miss the most recent State of .NET Tour?
No problem! You can download the latest slides and code samples and watch the videos.
State of .NET Events
We are currently working on the dates and locations for the next State of .NET Events. Please check back soon.
Testimonials
I want to thank Markus for his graciousness and willingness to share his knowledge for so long. I'll probably never throw away his Object Oriented book even though I no longer do much but maintain records in the applications I wrote. His teaching on C# and his State of .NET have been always rich and valuable. He is one of a kind.
James Wade
Houston State of .NET Attendee
Thank you very much for putting on the roadshow. I learned a lot about what is really in Windows 8, versus all of the hype and misinformation that is out there. It was great to see Markus in person after having listened to him so many times on CodeCast. Keep up the good work at CODE Magazine!
Greg Madsen
Vancouver State of .NET Attendee
I found Markus to be an excellent presenter with informed observations and a good mix of code, slides, and examples.
Brian Federia
Beyond.com
Good event! Appreciated the content, timely and well presented.
W. Newquay
Vancouver State of .NET Attendee
I just wanted to thank you again. Honestly I have been trawling the net for days and not found anything remotely helpful, but your video has done so much for me!
Danielle Tucker
Health Management Research Group
Contact Us!
Have questions about State of .NET? Don't hesitate to contact us!
CODE Consulting Services











This is a short selection from the wide range of services from CODE Consulting. For a complete list of our services, click here.