Web Combo - JavaScript & jQuery, HTML5 & CSS3, ASP.NET MVC, SOA & WCF
Presenters: Markus Egger - Jeff Etter
Where:
Onsite at CODE Training Center (6605 Cypresswood Dr. Suite 300, Spring, TX 77379) or remotely via GoToMeeting
When:
Oct 29 - Nov 1, 2012 (Monday - Thursday)
Desc:
An in-depth lecture style training class designed to educate attendees about today's web technologies - SOA & WCF, ASP.NET MVC, JavaScript & jQuery, and HTML5 & CSS3.


This class combines four of our most popular classes for one low price! Catch up with the most important web development techniques in less than a week!
This "Web Combo" provides an easy and discounted way to book a series of four of our most popular classes as a single event: "
A Day of SOA and WCF with Markus Egger
", "
Learn ASP.NET MVC in a Day
", "
Learn JavaScript and jQuery in a Day
", and "
Learn HTML5 and CSS3 in a Day
". This ends up as a knowledge-packed 4-day event, allowing attendees to get up to speed with 4 of the most important areas of modern web development (and beyond). For details on each of the event, click on the links above to see the detail for each day. (But book through the signup link on this event to get the special discounted rate for the combo-package!).
Note: Not included in this package, but perhaps also of interest is the 5th training class we are holding that same week (Friday):
A Day of Windows 8 Development with Markus Egger
. Learn about everything that is new in Windows 8 Metro and apply techniques learned Monday through Thursday. Ask Christopher (see below) about specials if you want to attend all 5 days.
Registration is extremely limited. For more information please e-mail info@codemag.com or call Christopher at 832-717-4445 x 13.
Group discounts as well as discounts for attendees of previous classes may be available. Call Christopher for details. Please note that instructors & exact curriculum may change. All sales are final.
Ready to Sign Up?
Click here to sign up for this event!
At a Glance:
Presenters: Markus Egger - Jeff Etter
When: Monday, October 29, 2012 (4 days)
Price: $1,299
Key Take-Aways:
Slide Deck
Source Code
Downloadable recordings of all the sessions
Certificate of Completion
Free CODE Magazine subscription
Discount off of future CODE Training Classes
Class Outline:
Intro to Service Oriented Architecture (SOA) & WCF
Building a Business System with SOA & WCF
Advanced WCF Topics
Intro to ASP.NET MVC
Business Apps with ASP.NET MVC
Intro to Jquery
JavaScript Language Concepts
Ask the Experts / Q & A
Advertisement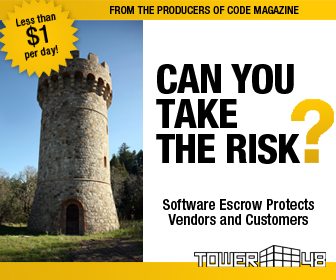 Venue Information
Event can be attended either on-site in our Houston offices or remotely via GoToMeeting.

Address is:
CODE Training & EPS Software Corp
6605 Cypresswood Drive, Suite 300
Spring, TX 77379


Questions?
Phone: 832-717-4445 ext 13
Email: info@codemag.com